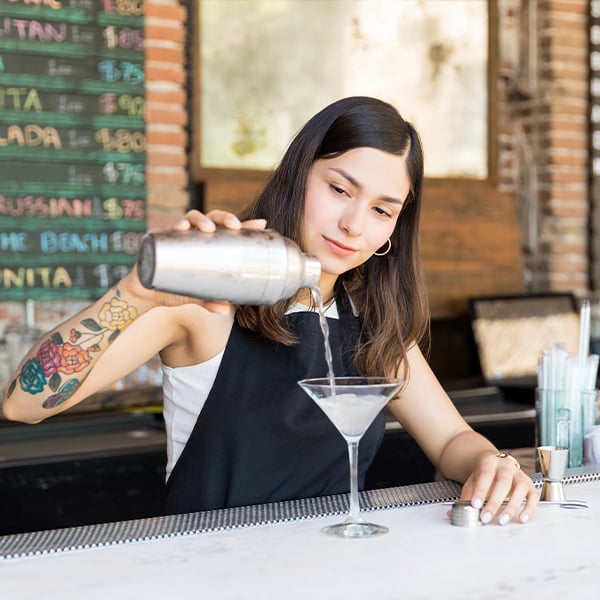 If you serve or sell alcohol in Australia you must hold a current valid Responsible Service of Alcohol (RSA) certificate. This course contains everything you need to know to be a safe server of alcohol and to keep your customers safe.
GET YOUR RSA FAST.
We know that many of our students who complete this course need to obtain or renew their RSA quickly to snap up a job offer. At Food Safety First, we've got you covered!
Sign up and start immediately, complete the lessons and quizzes at a time that suits you, and do your practical assessment at any time on any device. Our assessors will review your materials within 1-2 business days of submission, and issue your Statement of Attainment the same day that the assessment is complete. It's not unusual for students to start and complete the course in just a few hours.
Do you need your assessment processed even faster? Consider adding Express Certification to your order during checkout. Learn more.
RECOGNISED IN MULTIPLE STATES.
The Responsible Service of Alcohol (RSA) course offered by Food Safety First is accepted across Queensland, Western Australia and the Northern Territory. Other states are coming soon, so watch this page for more updates.
THE EASIEST PRACTICAL IN AUSTRALIA.
With Food Safety First you don't need to waste time waiting for a time slot to complete a practical assessment with an assessor, and you don't need to worry about having to find a friend or family member to role-play with you. We've developed the quickest and easiest practical assessment on the market. Using your mobile, tablet or laptop simply follow the steps outlined in our pre-recorded videos at a time and place that suits you. What's more, if you've worked in the industry for a while, you can skip the videos and nominate an observer to fill in a simple form to tell us about the tasks they've observed you doing.
The Responsible Service of Alcohol (RSA) course is designed for anyone who intends to sell or serve alcohol in Australia. It can be taken as a stand-alone course and there are no prerequisites for this training. It is currently recognised as meeting all legal requirements in Queensland, Western Australia and the Northern Territory, with more states coming soon.
Course Content
The content of the course ensures that individuals are aware of their responsibilities as an alcohol server or seller, and provides comprehensive information about alcohol laws and techniques for keeping customers safe. At the end of the course, students are expected to be able to identify customers at different stages of intoxication and handle difficult situations such as checking ID, slowing down service, stopping service and asking customers to leave the premises.
The Responsible Service of Alcohol (RSA) course is broken down into 16 interactive lessons:
Lesson 1 - The social impacts of alcohol and RSA responsibilities

Lesson 2 - The impacts of alcohol on the body

Lesson 3 - Blood alcohol concentration and the factors that affect it

Lesson 4 - Calculating and serving standard drinks

Lesson 5 - The signs of intoxication

Lesson 6 - The duty of care concepts and principles of harm minimisation

Lesson 7 - Myths that exist around sobering up

Lesson 8 - The laws related to alcohol in Australia

Lesson 9 - The agencies that exist to enforce alcohol laws

Lesson 10 - Acceptable and unacceptable IDs

Lesson 11 - The steps to take when checking IDs and verifying age

Lesson 12 - The correct procedures for verifying IDs

Lesson 13 - When to stop service to intoxicated customers

Lesson 14 - The techniques and practices for stopping service

Lesson 15 - How to get your customer home safely and transport options

Lesson 16 - Organisational policies and procedures relevant to the responsible service of alcohol
The assessment for the Responsible Service of Alcohol (RSA) course has four parts:
Part 1 - Lesson Quizzes
At the end of each lesson, you need to complete a multiple-choice quiz. Once you have scored 100% you are able to move on to the next lesson. You have five attempts at each quiz, but don't worry if you use up all your attempts – just get in touch and we can help you out at no extra charge!
Part 2 - Case Studies
There are two case studies to complete in the course. The purpose of these is to check that you can apply what you've learnt to a real-life situation. Simply read the text and answer a series of multiple-choice questions about the best way to handle the scenarios. 
Part 3 - Reading Activity
There is a reading activity on understanding in-house policy documents. Simply download the PDF from the course page and then complete the multiple-choice quiz. 
Part 4 - Video Assessment or Observer Report
The legal requirements for Responsible Service of Alcohol (RSA) training specify that you need to demonstrate certain tasks correctly. We offer two options for this - a video assessment or an Observer Report.
Video Assessment. If you're new to the industry you'll need to complete a video assessment in which you interact with our easy-to-use pre-recorded videos through a series of scenarios. You can do this on any device which has a webcam and microphone, and you can complete this assessment at any time and place that suits you. It's best to complete the video assessment after finishing all lessons and quizzes in the course to ensure you understand the requirements of the assessment properly.

Observer Report. If you've been working in the industry and serving alcohol to customers within the last 12 months, you can nominate an Observer to report on your skills. Your Observer will need to complete the form provided. This is the simplest option for those alcohol servers or sellers looking to renew their RSA certificate quickly.
One of our qualified assessors will assess the Observer Report or video and provide your results.
Quality Assurance Process
As part of our quality assurance process, we reserve the right to contact you or your nominated observer to conduct a competency conversation or verification of assessment prior to awarding certification.
The Responsible Service of Alcohol (RSA) course is applicable to servers or sellers of alcohol and meets the Australia-wide legal requirement for RSA training. However, this course is currently only approved for those people working in Queensland, Western Australia and the Northern Territory.
The unit of competency attained upon successful completion of the course is SITHFAB021 - Provide responsible service of alcohol (this supersedes old unit SITHFAB002 - Provide responsible service of alcohol).
SITHFAB021 - Provide responsible service of alcohol is from the Tourism, Travel and Hospitality Training Package; and is also included in the Aviation Training Package and the Transport and Logistics Training Package. This means that once you complete this course, you can use it towards further qualifications in any of these industries.
We're here to help! Our most frequently asked questions about the Responsible Service of Alcohol Course are listed below.
If you still can't find what you're looking for, why not visit our dedicated FAQ page? Alternatively, Contact Us for more information or further details about any of our courses.
In order to complete this course you should be able to perform everyday tasks such as:
Reading and responding to online postings in chat rooms
Reviewing and discussing news items with others
Following a recipe
If you have any concerns about whether you have the skills required to participate in this course, please contact us and we'll be happy to discuss your requirements.
Upon enrolment we give you 12 months of access to complete everything, and you can start and stop as often as you'd like.