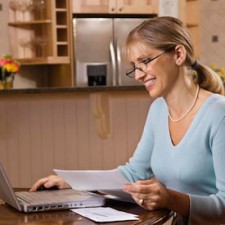 In Australia, it's a legal requirement that anyone who handles, prepares or serves food as part of their job must be trained in food safety. The Food Handling Certificate course is designed to meet that legal requirement, as well as protecting customers and food businesses from the sometimes lethal consequences of food safety incidents.
NO EXPERIENCE NECESSARY.
This course is an introduction course for those getting started in the food industry, or people who just need to meet the minimum requirements for food safety training. The lessons cover all the basics including personal hygiene, safe food handling and how to identify food safety hazards.
NATIONALLY RECOGNISED.
The Food Handling Certificate course is fully accredited, which means that upon successful completion, your Statement of Attainment is valid across all of Australia. What's more, you can use this Statement of Attainment towards a further qualification such as Food Safety Supervisor recognition or a Certificate in Commercial Cookery.
QUICK AND EASY TO COMPLETE.
Food Safety First courses are all fully interactive and straightforward to complete. The Food Handling Certificate (Level 1) course only takes a few hours to finish and you'll receive your Statement of Attainment within a few business days of completing the course, if not sooner! Thinking of doing this course as a stepping stone to Food Safety Supervisor (Level 2)? That's a great idea but did you know that you can save money if you do both Level 1 and 2 at the same time? Check out our Food Safety Supervisor (Level 1 & 2) course for more details.
The Food Handling Certificate (Level 1) course is designed for people who prepare, handle or serve food as part of their job. It can be taken as a stand-alone course to meet the Australia-wide legal requirement that all food handlers are trained in food safety, or it can be a stepping stone to becoming a Food Safety Supervisor.
Course Content
The content of the course ensures that individuals are aware of their responsibilities as a food handler, and provides comprehensive information about personal hygiene and best practice for ensuring food safety. At the end of the course, students are expected to be able to identify food safety hazards in the workplace and know what to do if a food safety incident occurs.
NSW Special Considerations
If you are in New South Wales and think you may wish to upgrade to a Food Safety Supervisor later, then you need to complete both Level 1 and Level 2 within three months of each other. Both levels must have been completed with a training provider approved by the NSW Food Authority, such as Food Safety First.
The Food Handling Certificate (Level 1) course is broken down into four interactive lessons:
Lesson 1 – Food Safety Laws & Responsibilities
Learn about food safety laws in Australia as well as the responsibilities you will have as a Food Handler.
Lesson 2 – Understanding Food Safety
Understand food poisoning – what causes it and what are the dangers involved. Also learn about food allergies and intolerances.
Lesson 3 – Maintaining a Clean Workplace
This lesson covers cleaning and sanitising, pest control, waste disposal and minimisation, and reporting requirements for cleaning and maintenance tasks.
Lesson 4 – Personal Hygiene
Understand requirements for good personal hygiene including clothing, behaviour, illness, hand washing and how to move between areas in the workplace.
The assessment for the Food Handling Certificate (Level 1) has four parts:
Part 1 – Lesson Quizzes
At the end of each lesson you need to complete a multiple choice quiz. Once you have scored 100% you are able to move onto the next lesson. You have five attempts at each quiz but don't worry if you use up all your attempts – just get in touch and we can help you out at no extra charge!
Part 2 – Reading Activity
When you have completed all of the lessons and quizzes, there is a short reading activity to complete. Simply download and read the document about Hazard Analysis Critical Control Points (HACCP) and then answer the questions in the multiple choice quiz. As with all other quizzes for this course, you need to score 100% to move on and you are given five attempts to do so.
Part 3 – Case Study
Once you have completed all the lessons, there is a short case study to complete. The purpose of this is to check that you can apply what you've learnt to a real-life situation. Simply read the text and answer a series of multiple choice questions about the best way to handle the scenario.
Part 4 – Observer Report / Declaration
There are some things we can't see you doing through your computer - such as washing your hands. That's why we need you to ask somebody that you work with or someone who works in the food industry to complete an Observer Report. This is a form that you ask someone you've worked with (past or present) to complete about tasks they've seen you doing. The form can be completed online or downloaded and filled out manually.
The Food Handling Certificate (Level 1) course is applicable to Food Handlers working in any industry and meets the Australia-wide legal requirement that Food Handlers must be trained in food safety.
The unit of competency attained upon successful completion of the course is 'SITXFSA001 Use hygienic practices for food safety' (this supersedes old unit SITXFSA101 Use hygienic practices for food safety').
This unit is from the 'Tourism & Hospitality' training package. This means that if you later wish to upgrade to Food Safety Supervisor, then your Statement of Attainment for this course can be used towards Food Safety Supervisor recognition in the hospitality industry.
To upgrade, you would need to successfully complete the Food Safety Supervisor (Level 2) course and attain competency in unit of competency 'SITXFSA002 Participate in safe food handling practices'.
We're here to help! Our most frequently asked questions about the Food Handling Certificate (Level 1) course are listed below.
If you still can't find what you're looking for, why not visit our dedicated FAQ page? Alternatively, Contact Us for more information or further details about any of our courses.
The Food Handling Certificate course is suitable for anyone that prepares, handles or serves food as part of their job. In fact, it is a legal requirement in Australia that all Food Handlers are trained in food safety.
Example jobs could be chefs, kitchen hands, serving staff or people working in food factories. But there are lots of other jobs where food handling may not be the main focus but is a part of the role. For example, child care or aged care workers may serve food to people in their care. Service station attendants may be responsible for the sale of pies and sausage rolls. In any job where food handling takes place, food safety training is a must.
The Food Handling Certificate (Level 1) course has been designed to meet this legal requirement, whilst also ensuring that Food Handlers are well trained on how to prevent food safety incidents in the workplace.
The course has been designed so that you can complete it at your own pace and the duration of the course varies depending on your existing knowledge of Food Safety and your English ability.
On average, most people complete the lessons and associated quizzes within about three to four hours. The other parts of the assessment can take anywhere between ten minutes to two hours depending on who you choose to complete your Observer Report and whether you need any extra assistance with the course content.
It's not unusual for students to sign up and complete the course on the same day, but we do give you up to twelve months to complete everything.
Don't forget that you don't need to do the entire course in one go – you can log on and log off as many times as you need. Some students choose to study for half an hour each day or an hour per week until they've finished.
A Food Handler is anyone that prepares, handles or serves food as part of their day-to-day job. There are many professions that handle food in some capacity even if it is not the main focus of their job and under Australian law, they must be trained in food safety.
A Food Safety Supervisor is a little different. In many parts of Australia, including Queensland, New South Wales, Victoria and the Australian Capital Territory, it is a legal requirement that at least one person from every food business is nominated as a Food Safety Supervisor. This is necessary in order for food businesses to obtain a food business licence, which is required to operate legally.
Food Safety Supervisors need to undertake more comprehensive food safety training than Food Handlers. This training can also delivered via an online short course. Food Safety Supervisors require Level 1 and Level 2 training - whereas Food Handlers only need Level 1 training, or it's equivalent.
Often those embarking on Food Safety Supervisor training have already done Level 1 and only need to complete the Level 2 part of the course.
Food Safety First offer both Food Safety Supervisor (Level 2) and Food Safety Supervisor (Level 1 & 2) training, as well as the Food Handling Certificate (Level 1) course.
When you've completed all of the quizzes and finalised your Observer Report, you need to complete a form on the course page called the 'Final Submission'. This only takes about five minutes - we need to ask you a few questions and confirm that you completed the course without assistance.
Once you've done this, we will process your assessment within 1-2 business days. You will then receive a copy of your Statement of Attainment by email. And if you requested a copy to be posted to you, we will print this onto premium certificate paper and you should receive that a day or so later too.
If you are concerned about the language, literacy or numeracy requirements of this course, or if you require additional support during the enrolment and course delivery process then we encourage you to contact us in order to discuss your individual needs with a student support representative.
In order to complete this course you should be able to perform everyday tasks such as:
using an instant messenger tool
sending SMS text messages
responding to customer complaints
reading weights on a digital scale
If you have any concerns about whether you have the skills required to participate in this course, please contact us and we'll be happy to discuss your requirements.